History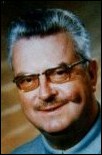 The Moneyron method owes its name to Jean Moneyron (1923-1994) pharmacist - physiotherapist, born and died in AMBERT in Auvergne. From a long line of caregivers, is very young looks to balance body suffering. From his experiences and observations of manual practices he developed an original care manual method by its "softness".

The results he obtained with this manual practice gave him great notoriety, both national and international. End of 1960s, in a context of stated cleavage between modern medicine and traditional, so-called medicine to treat, it had no choice but to resume physiotherapy studies in Clermont-Ferrand.

Its intense practice firm enables it to handle many cases, it includes very quickly the interest to regard and treat the person as a whole. Making its approach a genuine care full method.

In the 1970s, Dr. Nogier and Niboyer of GLEM in Lyon, sought it to present its method of their international research seminars. Curious and open to other ways of thinking the care, these meetings have it in the way we treat. And it is well with his patients he loves to take time to heal and understand.

That is, that during his life, he practised exclusively according to its method, in the developing and causing it to a large degree of control.



This family line, only Françoise Toulouze-Moneyron took this collusion of "caregiver" with his father.

Nurse-osteopath, she practice this method of care at Ambert.

Today, she wants to continue this method as near to its original form. She is there working through training courses she provides.