The training
Description
Initial teaching include 3 periods of 2 days, on the base of 6 hours a day.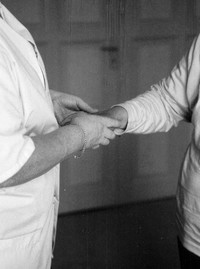 Basic seminary including :
- an introduction to the method
- location of the points on the upper limb
- location of the points on the lower limb
- introduction to the therapic gesture and application of this one on the located points


Improvement seminary one month later including :
- perception work on the spinal column
- description and location of the points
- practice of the therapic gesture
- revision of the points of the first seminar


Seminary for a thorough training, 3 months later :
- precision about the gesture, qualitative research
- abdominal methodology / handling
- role-playing by every pupil with assessment grid
- therapic application


A post-gradual training
Since 2002, to answer the demands and the needsof practitioners trained in the method Moneyron, every year, three days of « Meetings », take place in Ambert, in Auvergne (France). This post-gradual formation is opened to the practitioners trainedby Françoise Moneyron.
Its purpose is to dive back at the heart of the method and to go even further to the perception, the therapeutic gesture and the experiment.
A certificate of capacity in the method is given to every participant.

See the minutes of the 2011 meeting, 2012 meeting, 2013 meeting, 2014 meeting, 2015 meeting and 2017 meeting
Information and registrations for the initial training
For dates and towns, browse to schedule.

Contact us or fill in the form.
Teacher
Formations are made by Françoise Moneyron. She is at the moment accompanied on every training course by a trainer, introduced by her(his) care and having a practice regularly according to the method.
Admittance conditions
Taking part of the seminaries requires at least a training as physiotherapist.

Rates for each seminary are defined below :


Registration fee : 330 euros each, total cost is 990 euros (lodging and meal not included)


Inscription fee : 50 euros (no refund in case of withdrawal, whatever the reason)
* Only the students having attended all the sessions will be given a training certificate.