Home
Welcome to the website
Learning and Development of the Moneyron's Method
The purpose of the training proposed by Françoise Moneyron is to develop and to perpetuate the method of treatment by manual therapy finalized by Jean Moneyron.

Among the manual therapies, the method Moneyron is known and recognized from the 60s. From 1940s, case after case, Jean Moneyron, pharmacist-physiotherapist formalizes a method of manual therapy articulating the results of its practice and the theoretical exchanges that he has with practitioners committed doctors, like him, in ways considered as « divergent » at this period.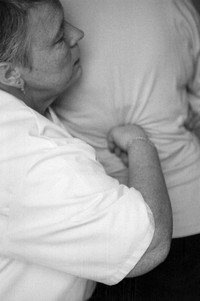 His daughter Françoise Moneyron was trained by his father during many years of trade guilds and practice in Ambert (France) since 1985.

At the death of Jean Moneyron, from 1994, emergent number of trainings, being inspired and/or slandering the origins of this method, make a reference to it, carried by people who call themselves, wrongly, of partners or even pupils, of Jean Moneyron. Time goes by, each follows hisway, each lives his experiments, and nothing is unchanging, nothing returns or stays as before.

However, if, from 2002, Françoise Moneyron, osteopath, proposes a formation in the method Jean Moneyron, it is because, as in the 60s, the epoch is not for the scientific complication of the therapeutic gesture which structures this method, but on the way back towards the value of the dialogue which is established between unwell person and therapist during the act of care. So this imply an even bigger implication of the therapist.

So, the characterizations of this learning of the method Moneyron are that it is quickly going over the only intellectual technicality of treatments points to give back a real value to the feeling in the experiment patient-therapist to refocus, from the facts, the protocol of care Moneyron according to its three constituent qualitative dimensions: the organic, the sensitive, the intelligent.

You'll find on this website :
Have a nice visit and see you soon.